Celebrities Colorful Makeup – Do They Inspire You about How to Make Up for Halloween?
Halloween – a festival with dense carnival atmosphere, calls up all people to dress up. So, have you already got your Halloween costume and cosmetics ready? If you are hunting for some inspirations about makeup, you are lucky to be led here. Below, you will see how well-known celebrities make up for Halloween. Let's take a look now.
Top 1: Lady Gaga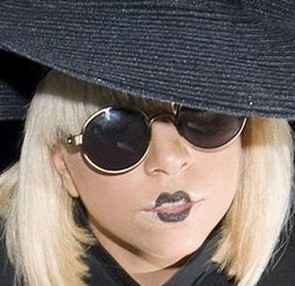 Emphasis of her makeup lies on the lip. This is a kind of makeup style popular among Japanese geishas. You can daub a layer of concealer on your full face and mouth. Then, press it slightly by foundation make-up. Keep your mouth close and draw a peach heart at the middle of your lip by a black eye liner. Make sure lines on your both lips keep anastomotic and then daub the peach heart to be black by your eye liner. While drawing this, make sure your lip is dry because the pattern will keep longer in this case. Colorful makeup on other places of the face is rather simple. What you need is just a pair of sunglasses!
Top 2: Dita Von Teese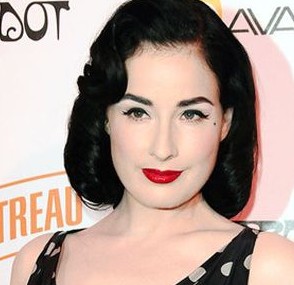 We usually find classically pure complexion that is as white as ceramic white ware shown by strippers. To complete a colorful makeup like this, what you need include functional foundation makeup, pink blusher and light blue eye shadow which will be daubed till the brow ridge. Then, water-proof eyelash grower and false eyelashes will be needed. While drawing the eyebrow, make sure to draw it to be a classical Hollywood style. Ruby red needs to be used on the lip. It's ideally matched with the ceramic white ware, highlighting vivid contrast effect on the face!
Top 3: Christina Aguilera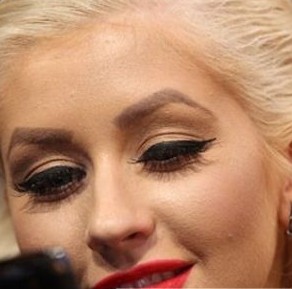 It's believed most girls desire to be the Marilyn Monroe in Mr. Right's mind. To achieve this, you can also try this kind of makeup. To make it, you will need a brown eyebrow pencil. It's totally okay to draw your eyebrow to be a little exaggerating here. Then, enhance the light around the eyes. At last, a classical cat's eye makeup should be drawn by liquid eye liner. But remember that the middle part should be drawn to be much thicker. After doing all of these, you can daub a light red lip stick now!
Top 4: Taylor Momsen
Do you also feel a little horrific at the first glimpse of this kind of eye shadow makeup like cat's eye? To achieve it, you need to pay close attention to the dosage of eye shadow. First of all, draw a circle by black eye liner. Then, brush it outwards by an eye shadow brusher. In this case, black eye socket will be created. After doing these, erase the redundant eye liner by wet tissues for infants. At last, concealer and foundation makeup will be needed. Likewise, daub functional eyelash grower please.
Top 5: Taylor Swift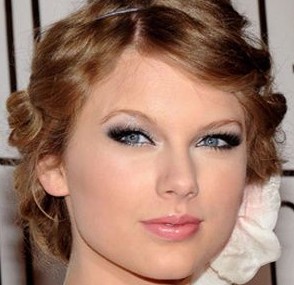 Like country music in America, Taylor impresses us by mild & sweet appeal. She is envied by most females. If you desire to be as charming as her, you can choose light purple eye shadow. Then, draw cat's eye makeup by black eye liner. Pink blusher will be needed. Choose a part as large as an apple on your face and daub the blusher on it. While dealing with the lips, sketch the outline by a pink lip liner first of all. Then, lip gloss with ideal sheen will be necessary!