The Best Travel Apps on Both iOS and Android
Too frequently, you read a list of recommendations of travel apps, only to discover that the perfect-sounding app isn't available in your app store. Whether you own the newest iPhone or HTC's One X, the apps on this list are compatible.
1. CouchSurfing

CouchSurfing has an interesting angle. It's not about finding the most posh hotel or the cheapest hostel, it's about helping you find some place for free to stay for a night or two. As the name suggests, that place is the couch in someone's living room. While you might see an upgrade to a bed in a spare bedroom, CouchSurfing is all about connecting generous folks who are willing to open their homes to travelers on a budget.
2. Kayak
Kayak is one of the better known apps, and it's available for Android and iOS devices. Kayak lets you find hotels, track flights and rent cars directly from your mobile phone. The apps saves information about your trips if you've registered an account with Kayak, which isn't just for American travelers. The website and app let you choose from a handful of currencies and dozens of languages.
3. TripIt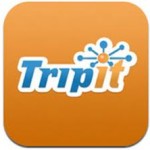 TripIt has a pretty cool gimmick. Just forward all your receipt or confirmation emails to a special email address, and TripIt will build an itinerary in your account. You can also manually enter details to add to your all-encompassing itinerary. TripIt is a great tool for people who travel frequently for work, but you'll find it useful even if you only use it for a single trip.
4. XE Currency
If you've ever had a need to convert currency, Google probably brought up XE.com as the first search result. The currency conversation website has apps for almost every smartphone operating system out there, including Windows Phone, so you'll never be out in the cold when traveling. XE helps you keep track of your budget and know exactly what you're spending in a currency that is familiar to you. You can also track currency rates because the app tracks them as they change.
5. TripAdvisor
TripAdvisor lets you search the area for places to say, food to eat and things to do. The app for your iPhone or Samsung Galaxy S III doesn't just include practical information such as flight times and prices; you can find high-rated restaurants and local activities, which makes TripAdvisor a lot more conducive to fun. Plus, you'll see the online reviews from real users just like you, which makes this app more useful than apps that simply list nearby businesses and travel information without putting them in context.
6. Triposo

This is the guide you need if you want information about the places you're visiting. The app quickly provides information such as currency and local time. You can look up the most frequent destinations within a country, and Triposo even takes into consideration today's weather to provide you with activity recommendations. Log your travel with Triposo's travel journal, so you'll never forget a detail!