Popular Kitchen Design in 2013
Kitchens need to be practical but this does not mean they can't be stylish and comfortable environments that make you want to work, play, cook and relax in them. Over the years kitchen trends have benefited more and more from the ultra-sophisticated technology out there, making them state-of-the-art rooms where anything is possible as long as you have the space for it.
Kitchen practical trends for 2013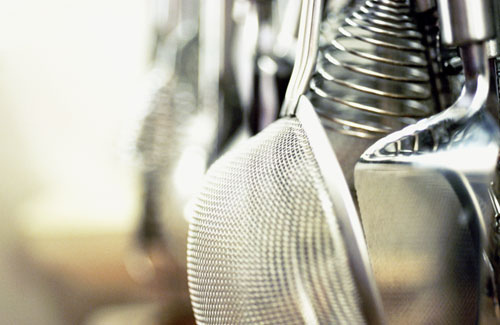 A Trend to Make Every Inch Count
This year's kitchen trends see designers playing with all sorts of textures with comfort married to practicality sitting nicely together that creates a relaxing space the whole family can enjoy. Kitchen designs for 2013 naturally look good but people want these spaces to work for them and this means making the most out of every inch of the room – no matter how big or small the area happens to be.
Designers have come up with clever ideas to open up smaller kitchens by using the subtle tones and the colour white. Back splash panels and stylish stainless rods where people can hang their kitchen utensils are being included in these practical kitchen designs – again every inch is used to render the area as functional as possible and not just another pretty looking decoration.
Open Plan is Hot
The trend for 'flex' spaces will be a huge feature in kitchen layouts this year – people realise more than ever their kitchens are the hubs of a home and not just a space where food is prepared. Walls are coming down in older properties so that rarely used dining rooms become open plan spaces that boast armchairs and couches too. Bistro-style layouts that people enjoy when they are out and about will be part of their open plan kitchens.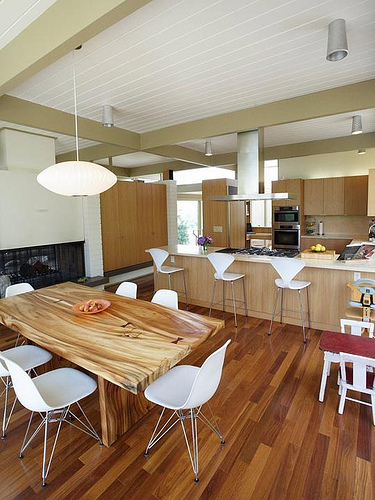 Open plan kitchens – the hub of a home
Centre Islands Are Big
Centre islands are back with a vengeance – they're great preparation areas but make superb areas to eat at too. Entertaining friends in a kitchen is cool with the island doubling up as a ready-made bar.
Kitchen Technology Like Never Before
Technology has reached every part of modern day life and this includes in the kitchen – it is no longer considered just a room in a house, the kitchen today is "the" room where people like to gather, play, laugh, work and even cook. This means a load of plug points are needed in this heart of a home – although wireless technology goes a long way in preventing power overloads. Wi-Fi features in kitchens like never before because the family wants and needs to keep in touch with friends and relatives – its part of the modern day culture that nobody wants to miss out on.
Subdued Relaxing Colours Are In
When it comes to colour trends for 2103 – relaxing, softer hues replace brighter yellows and chilli reds to create an environment that's easy living, where people want to sit down and relax for an hour or two.
Ultra-Modern Appliances That Fit In
Kitchen appliances need to fit in to the layouts without losing any of the clean lines of the room which means built-in appliances, eye catching range hoods over black ceramic cook tops and pyrolytic ovens feature hugely, they look good and work well. Surfaces have to be 'easy maintenance' simplifying life when it comes to preparation, cooking and cleaning up and a meal.
About the author: Tom Reynolds, German kitchen designer and design trend specialist at Nicholas Anthony. Kitchens have become the heart of a home like never before. Everyone loves to congregate in a room that's both warm and welcoming, practical and comfortable, where there's usually always something happening – the trend for 2013 is to create a space where family and friends can meet up and where home entertainment can really come into its own.