The Hottest Ways to Rock the Jumpsuit this Season
What Goes Around Comes Around:
Jumpsuits were all the rage in the hippie era of the 60's and 80's disco years. Then for a period of a couple of decades, Jumpsuits were considered an outdated fashion and a thing of the past. Recent years have seen the revival of theonce highly popular trend, with major fashion houses and several international designers resurrecting the Jumpsuit in the form of exclusive new collections. Celebrities were seen adorning all sorts of Jumpsuits to shopping, parties and even award ceremonies! And so, without further ado, I bring you the most exciting and hottest ways to rock the Jumpsuit this season.
Wear it with a jacket:If you are a novice when it comes to pulling off Jumpsuits, pairing a floral Jumpsuit with a jacket is the most subtle way to look cool and chic. Floral Jumpsuits are set to be the hottest trend this spring/summer season. So what are you waiting for? Pick one and embrace the season of love!
Fashion Tip: To add a splash of color to your dark outfit, pair it up with red and gold sandals.
Summer Love: Summers are here and denims are the staple summer wardrobe item. Everyone must incorporate denim into their attire in summer. Opt for a blue denim playsuit this season to get that classy and fun summery look.
Fashion Tip:Look great by adding a pair of sunglasses and a sleek sling bag to denim playsuits.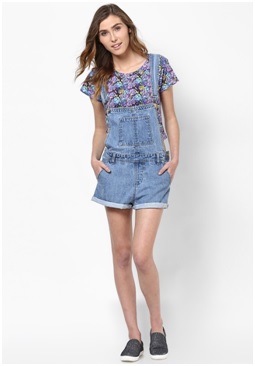 Formally Inclined: The Jumpsuit is not exclusive to casual dressing. It can look wonderful as formal attire as well. The golden rule to get that formal look is by pairing heels and a stylish purse with a wide-legged Apply make-up and look ravishing in your floral jumpsuits.
Fashion Tip: Don't forget to wear heels as they add height and elongate your legs.
Friend of the Night: This look is perfect for those crazy night-outs. Combine your printed jumpsuits with brown wedge sandals. Layer it up with a neutral-tone kimono cardigan to add a refreshing touch to the classic jumpsuit. Prints like florals, polka dots, hearts,etc. are feminine and make you appear more girly. Go for a printed jumpsuit to look chic and add a playful side to your personality.
 How to accessorize your jumpsuit: If you're wearing a light colored sleeveless jumpsuit, for jewellery, opt for gold-toned danglers and drop for a sophisticated look and add a three piece necklace to leave everyone spellbound.
If you're sporting a dark colored jumpsuit, go with silver themed jewellery to create a pleasant contrast.
A must-have accessory is the clutch as it provides great utility and looks ultra-chic with any jumpsuit. 
VaibhavKattar is a fashion writer working with India's hottest online shopping & lifestyle destination. He likes to research and write about the latest in today's fashion. When he's not working he spends his time making music and watching TV shows.