Most effective Protein Powders
There Is A Protein Powder For Every Goal
It's difficult to truly to zero in on the best protein powder. Each person's goals are different, so to crown a true #1 would be impossible. However, in each different sub-category of goals, there are excellent protein powders that top those lists. The exciting part is finding the perfect combination of protein powders for each occasion that works best for you! Down below are some of the best protein powders for different goals.
1) Progenex More Muscle 
What stands atop the list as the best tasting protein powder that actually works too? Look no further than Progenex More Muscle. Whether you are an avid lifter looking to increase your lean muscle, or a casual fitness enthusiast aspiring to look and feel your best, PROGENEX More Muscle is the product for you. More Muscle helps increase lean muscle so that you lift more, build more and burn more throughout your day. Progenex claims in the production process the first stage isolates growth factors that can be found in early-stage cows' milk, extracting and concentrating them using a unique proprietary process. The second stage micro-filters and ultra-filters the cold-processed whey to a high quality whey protein isolate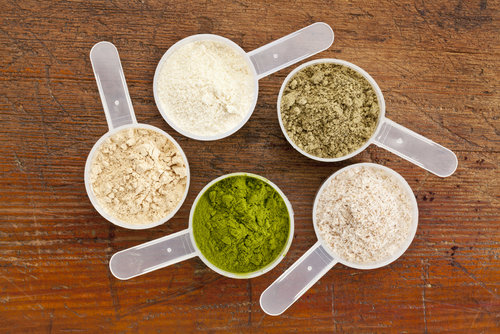 2) Gold Standard Whey Protein By Optimum Nutrition- Weight Loss/Solid Muscle Look
While some seek the invigorating thrill of looking at a Hulk in the mirror after each grueling working, others enjoy a more toned-down, chiseled approach to fitness. For a good powder regarding solid muscle gain without the rest, Gold Standard Whey Protein By Optimum Nutrition is an excellent protein powder for that. Just one serving (one scoop) is packed with 24 grams of protein while only having 120 calories. Furthermore, it only has 2 grams of fat and 3 grams of carbs per scoop as well! Talk about bang for your buck, right?
3) BSN Syntha-6- Best Tasting Protein Powder
BSN Syntha-6 – most of its flavors are quite tasty and satisfying, it's the chocolate-oriented protein powders that really stand out. BSN Syntha-6's chocolate milkshake tastes as if you're not even drinking a protein shake. It is a great powder to mix in other healthy treats like berries, bananas, strawberries, peanut butter, and nuts. Although these additions certainly enhance its flavor, BSN Syntha-6 protein powders are such a surprisingly pleasant treat your taste buds that they're really not even necessary!
4) Ascent Whey Protein- For Recovery
Packed with all the right compounds for strength increase and recovery. Sure it's not the best tasting protein powder, but the taste isn't what you're buying this one for. A few notable ingredients that make Ascent's protein powder so effective in the strength and recovery departments are 5.7g of BCAA's and 2.7g of Leucine (which is one of three BCAA's). BCAA's are critical in the recovery process because they prevent serum decline in BCAA's during exercise, which leads to an increase in serotonin production and ultimately muscle fatigue.
5) Gold Standard Casein Protein By Optimum Nutrition – For Muscle and Strength Retention
Never underestimate the importance of the work and dedication necessary for gains outside of the gym. It does you no good if you go at it with all your might on the weights, break your muscles down to the thread, then go home and reverse your hard work with poor nutrition and timing. This is why Gold Standard Casein Protein By Optimum Nutrition is one of the best protein powder for muscle strength and retention. Casein is the ideal protein to use for sleep because it doesn't break down as fast as whey protein. This allows your muscles to receive a nice steady flow of BCAA's throughout the night to keep them saturated with the nutrients needed for growth and retention.
The Best Protein Powder All Depends On Your Goals!
As you can see, there are a plethora of outstanding protein powders out there. Some may not be the best tasting protein powders, but they get deliver satisfying results in their respective fields. Like our selection in ice cream, protein powder preference varies greatly from individual to individual. When all is said and done, there is no wrong choice in protein powder, so seek fun and excitement in finding the one or combination of protein powders that work best for you!