Sweet 16 College Debt Rankings
Hold on to your brackets, because we are now down to our Sweet 16 in The 2018 NCAA College Basketball Championship! Folks around the nation are glued to their screens watching some of the biggest wins, loses and upsets in college basketball history! Whether it's alumni, location, or simply basketball fandom that keeps you loyal, we thought it would be pretty cool to pull the rankings on another giant aspect of college – the amount of loan debt their students tend to rack up while training for that big degree. Sure, your fav might have one of the top seats now – and heck, they may even come out as the #1 team in the country; but to find out who the real financial winners and losers are, see below for Docupop's official student loan debt rankings for America's Sweet 16 line-up.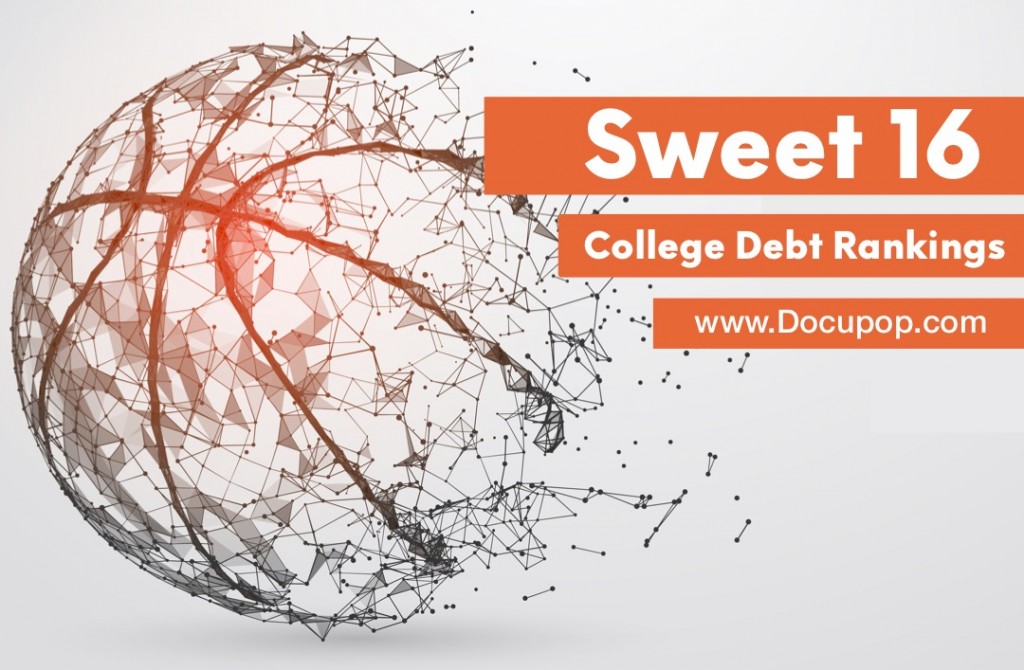 Tuition cost, scholarships, and even family help all play some sort of role in the numbers above; but with the average walk-away debt (at just about any school) still clocking in at over 30k+, student loan debt is never as sweet as the teams and games we love to root for (or rival against). So regardless of how your alma mater ranks, if your student loan payments are breaking the backboard of your monthly budget, it might be time to think about a consolidation. Need help navigating?  3rd party pros like the ones at Docupop have helped THOUSANDS of borrowers find and accurately file for the perfect DOE offered repayment plan to fit their unique needs and income.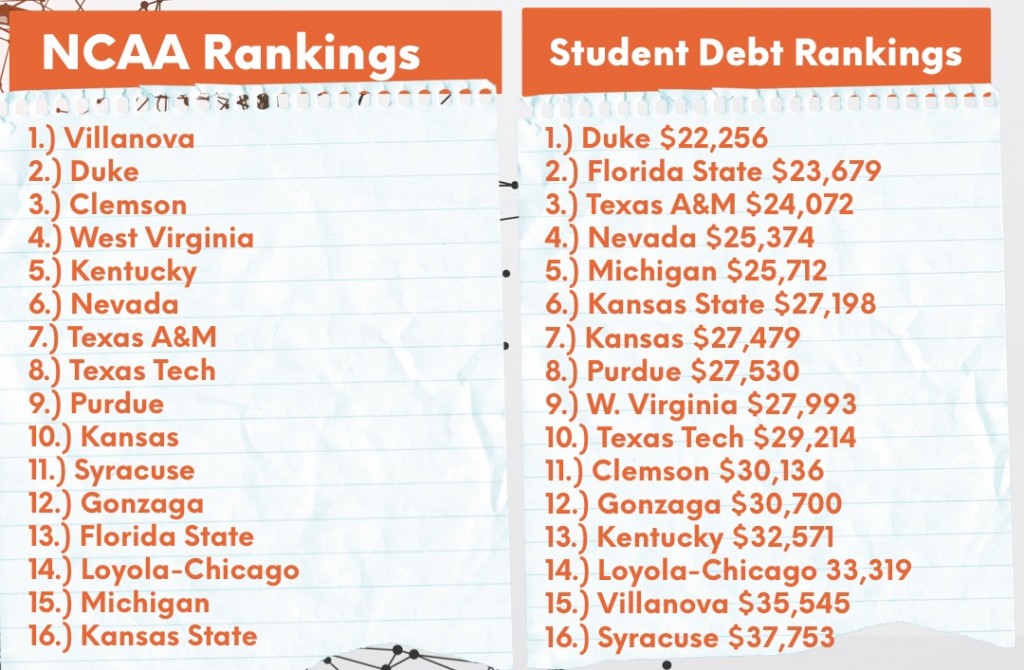 To learn more about possible student loan FORGIVENESS for those who qualify (oh yea, we said it) and/or to see if you could qualify for an income driven repayment plan that could help you drastically LOWER your monthly payments, drop a quick line to a Docupop's adviser here: https://www.docupop.com/student-loan-forgiveness/ or call them direct at  (888) 725-0679 and let the financial pros at POP coach you to the big budget "W."
Resources:
Student Loan Debt Estimates: www.collegedata.com
Current NCAA Sweet 16 Rankings:
Disclaimer:  Student loan forgiveness and income dependent repayment plans are offered at no cost by the Department of Education.  Docupop is a private company, not affiliated with the DOE. Docupop is a private company, not affiliated with the Department of Education. The DOE offers several programs that may offer lower monthly loan payments for borrowers who meet the qualifications based on income and family size. Lower monthly payments may lead to longer student loan maturity periods, increasing the total amount of interest over the life of the loan. The DOE also offers programs that may forgive some or all of the borrower's loan balance. The Public Service Loan Forgiveness program (PSLF) is based on the number of qualified payments made under the program while working full-time for a qualifying employer. Other programs require a specific number of qualifying payments and then forgive the remaining balance once those payments are completed, without any public service obligation. Depending on the type of forgiveness, any amounts forgiven may be treated as taxable income for income tax purposes, please consult your tax professional. More information can be found on the DOE website: https://studentaid.ed.gov/sa/repay-loans/forgiveness-cancellation
*Links to third-party web sites are provided for convenience only. Docupop does not endorse nor support the content of third-party links. Docupop is not responsible for the content of a third-party website. By clicking on a third-party link, you will leave the Docupop website. Privacy and security policies may differ from those practiced by Docupop.