Gearing Up For Black Friday-For the Truly Frugal
When you've admitted you're thrifty and frugal, and when you embrace the art of the deal, you'll find that Black Friday is more or less early Christmas. If you have been hankering after a certain piece of clothing or a certain piece of electronic equipment, you'll find that the Friday after Thanksgiving is going to be the time to get it. We've all heard about the Black Friday frenzy (we may even have started some of that frenzy ourselves!) but if you want to make sure that this year's savings are stellar, there are some tips to keep in mind.
First, shop early. Or even better – don't go to bed! Retailers are really taking advantage of Black Friday to push their sales into something spectacular, and no one wants to be caught napping. More and more stores are opening their Black Friday sales up on Thursday night. After you get stuffed with your family, take a nap and head out in the evening. This is something that can make a huge difference to your shopping, and it can get you out of the main crush before it even really starts.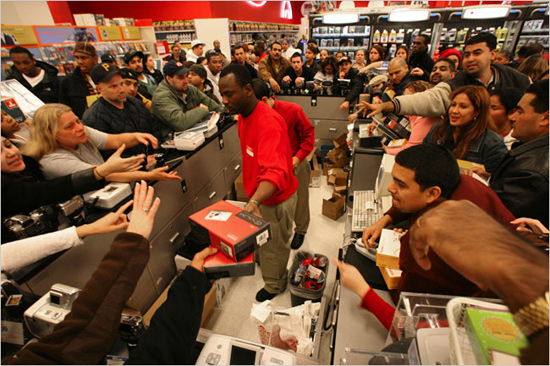 Stay fed. If you celebrate Thanksgiving, you may be wondering why you need to be reminded to eat, but there it is. Shopping is an endurance trial, and you are going to stay much saner, much more levelheaded and simply much more cheerful if you are willing to bring along a few sandwiches. The restaurants are going to be just as busy as the stores, and if you want to maximize your shopping time, simply stash a thermos of soup, some soda and a few sandwiches in the car to see you through. After all, you can always order out later.
Skip the middle. Black Friday has a rise and a peak around about noon. It stays pretty busy until dusk, and then it starts to peter out. There's no such thing as shopping without hassle on Black Friday, but you'll find that going early or going very late can have some fantastic advantages for you. Some things get marked even lower as the day goes on, and you'll find that sometimes, people are willing to cut prices just to get things out of the store. Be aware of where you can bargain and who you can bargain with; this day is already rough on retail workers, so do your best not to make it rougher.
Finally, be safe. There has been a lot of talk about Black Friday stampedes and violence, and though it is very unlikely that you will be hurt, it is always worth being cautious. Leave the kids at home and make sure that you feel comfortable where you are. If you get the idea that the crowd is getting pushy, it is time to remove yourself from the situation. Do not push back, as this can escalate things. Just leave. Whatever you wanted, it probably wasn't worth it!
If you are invested in making this thrifty Black Friday one to remember, take a few moments to consider what you need to know. It really can be a great way to save hundreds of dollars.
Bio:  Written by Carly Lance who loves to blog about personal finances and she is marketing manager at Personal Bankruptcy Canada, a company that deals with bankruptcy in Canada.