How to Successfully Move With a Newborn
No matter what your situation, moving is always going to come with stress. This is especially true if you own a lot of things, have a large number of people in your family or have a new baby. Moving with a newborn takes a special kind of effort, but if you take the right steps and commit to staying calm throughout the process, everything will work out just fine.
1. Get Organized
Long before moving day, you will want to organize everything you possibly can, and this advice stands whether you have a baby or not. One easy method is to set aside your basic essentials, such as your toothbrush, toiletries and a few days worth of clothes, and then pack everything else away. The more you pack ahead of time, the easier moving day will be. You can also have a baby bag ready prior to moving day, giving you more free time to worry about everything else. If you're doing a long-distance move, be sure to pack plenty of extra diapers. The last thing you want is to have to stop at a store when you have so many other things to do.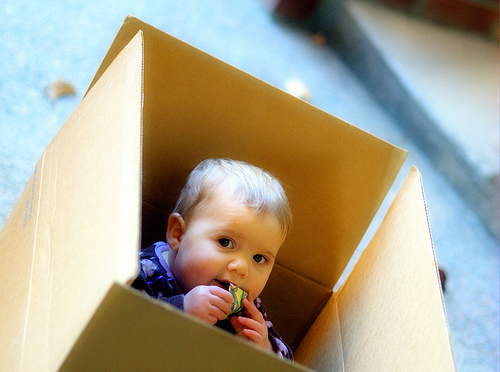 2. Ask For Help

Whether you are a single parent or have a partner, you will still likely need some help on moving day. Aside from offering an extra set of hands to help carry things, friends and family members can go a long way in sharing the burden of taking care of an infant during the move. Be sure to ask people to help well in advance so that they will be able to request time off work if necessary.
3. Have The Right Equipment
Having the right stuff will also go a long way in keeping your baby happy during the move. An on-body baby carrier is great, as it allows you to keep the baby close to you while still having your hands free. Another excellent investment is a portable play yard for babies which can be set up in whatever room you're working in. There are even some play yards with changing table and bassinet attachments, which are perfect if you need to spend the night in a hotel somewhere during the move.
4. When You Arrive, Take it One Step at a Time

When you get to your destination, you will probably feel a sense of relief, followed immediately by the overwhelming realization that you still have an enormous amount of things to do. The good news is, now that you are at your new place, you are no longer on a time limit and can take as long to get set up as you'd like.
At this point, the baby is sleeping in her room, your bed is set up, and you've located the soap, towels and toilet paper even if you still can't find the box with the kitchen stuff. Why not give yourself a break? There is no possible way to get everything unpacked and set up on the night you arrive, so kick back, rest your eyes and order in a pizza. You deserve it.
Researcher Shelby Warden is a mother of two who managed to survive many moves with her children. Having a play yard for babies with a sturdy bassinet attachment is almost like having a good babysitter available around the clock. Not only does it help by keeping babies close by and entertained for hours, but it gives parents the freedom they need to get things done.
Photo Credit: http://www.flickr.com/photos/carbonnyc/4200185526/