Are All Data Centers Created Equal? A Look at Information Security
The current worlds of business and technology have made data storage an absolute necessity. From keeping customer data on hand to being able to store large amounts of information for research purposes, the applications of data storage are nearly limitless. Many business owners, researchers and other professionals are coming to the realization that the use of data centers is much more efficient, economically sound, and safe than trying to keep data on site. It's important to recognize, however, that not all data centers are created equal.
What Makes a Good Data Center?
There are several things that go into making a high-quality data center and, make no mistake, just because two different companies run data centers, it doesn't mean they are equal. The first thing to verify is that the data center meets any legal or professional laws or regulations. For instance, if a company is needing to store medical data, they need to make sure their storage center complies with HIPPA regulations. While some companies may not need stringent guidelines for their data, those that do need to remain vigilant.
It's also important to inquire about the security measures that a data center uses. For instance, is all of their data protected from outside attacks? Additionally, physical security is vital. Does the facility have the security to prevent unauthorized access or stop dishonest employees from leaving with sensitive data? Whether your choice of data storage is a large data center in Atlanta or a small, private server in Phoenix, these are all very important considerations.
Data needs to be protected on the digital and physical front, and these protections are vital even if a company doesn't believe that criminals would be interested in their data. Data centers store large amounts of information for several clients, so if hackers are after one company's information, it can affect every company storing data at that center. This, if for no other reason, is why every type of security in a data center would be necessary.
What About Big Data?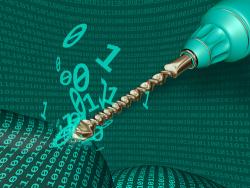 There are many considerations that must be made for big data that the majority of those who need data storage will never have to consider. Forbes even reported that the amount of data that's created, replicated, or captured has finally exceeded the amount of available storage that the world has. This is because nearly everything in the world is recorded now, and when companies have huge amounts of data, they need big data storage centers that can handle the challenge.
The main priority in managing big data is reducing its footprint. This means virtualizing the data so that it can be used across multiple platforms. Since a huge chunk of big data is nothing more than copies of other information, managing big data in general becomes much easier with a reduced amount out there. Reliable big data storage centers, like the ones described above, can help with this and, in the meantime, provide secure data protection.
Data storage is an ever evolving institution that is necessary for every type of business in every industry. Sure, some businesses and other organizations don't use much data, but as these organizations grow, it's imperative that they're able to store large amounts of information safely. This is why finding a data storage center that provides needed security and safety measures is absolutely essential when storing data.
Savannah Bobo is a blogger, freelance writer, tech enthusiast, and long-time user of various types of computer data—from disk and USB storage, to servers and clouds. It is important to choose the best type of data storage that is large, safe, and cost-efficient enough for your needs. A data center in Atlanta like Quality Tech can provide many storage options, including colocation, cloud services, and custom data centers.