Getting your kitchen lighting just right
Lighting plays a major role in the interior design of most homes and one of the most important rooms to get right is the kitchen, being both a functional and entertaining space. So how do you get it right? Take a look at our tips for creating the right kitchen lighting no matter what the occasion.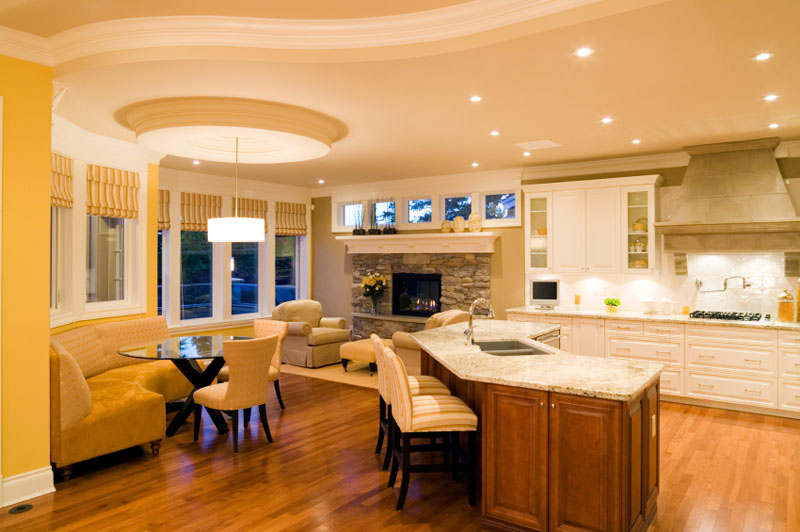 Dual purpose function
As the kitchen in many modern homes now acts as a social space as well as a functional space, you need to ensure the lighting is appropriate for both. For the functional aspect, most people opt for recessed or fluorescent lighting options, which afford good, clear, bright light for working under. For the social aspect, people tend to look for more decorative options with lighting finished in metallic or glass.
Remember that the type of lighting you choose will add to overall ambience of your kitchen; there is little point spending hours planning the perfect space and not evaluating the lighting options. Investigate any new technologies to market and evaluate if they are beneficial to you. One of the latest is light bulbs that can be controlled via your Smartphone or computer, enabling you to control not only the light fixtures, but also the light colour and giving you the ability to customise it as you wish. Although expensive at the moment, a number of companies in the market place are working to bring down the cost to the consumer and commercial lighting markets.
So, how do you choose the right lighting?
There are a lot of aspects to consider when looking at kitchen lighting, some of which include:
Making sure you have an accurate plan of your existing or new kitchen space, clearly marking where your units will be, your cooking area, washing up areas and seating arrangements (if this is part of your plan). All these different areas of your kitchen will require different lighting treatments.
Bear in mind the upkeep of your lighting choices. Chandeliers look amazing but they do need regular cleaning, which can be laborious task.
Perhaps choose lighting fixtures with dimmers; this may mean you will not need as many lighting sources to create the perfect mood that you want in any given situation.
Think about lighting above, below and in cupboards; do you have glasses to display that would benefit from lighting? If you have an island, do you want more than one pendant, to create a more central focus?
Think about when your kitchen is going to be used. Are you there in the day a lot or is it mostly at night? Do you entertain regularly or is your kitchen more of a functional space?
Taking all the factors into consideration will lead to you creating the right ambiance in your kitchen and make sure it becomes a successful socializing space as well as highly functional space. So ensure you spend some time looking at your requirements and planning how you will use the space – it really will be worth it.
Kyla Smith is an interior designer with over 20 years experience. He works with a range of private clients along with small businesses and specializes in creating cohesive designs encompassing consumer and commercial lighting solutions.