The Indian Woman and The Indian Saree
The Indian woman is sensuous, affable and welcoming. Her salutary influence is definitely seen not only in her personality, but in her dressing as well. The clothing that accentuates the beauty of the Indian woman is the saree; which is available in various materials, designs, varieties etc. Right from the local cloth shop to the designer stores—you will find sarees that can be worn for all occasions.
Recently, there is a fad to wear celebrity sarees—the ones that are worn by the stars in the movies. Take for example the latest movie Khoobsurat, starring Sonam Kapoor and Fawad Khan. In this movie, you will not find Sonam Kapoor dressed in sarees as she is the royal misfit. However, Ratna Pathak is that true royal queen has amazing style. This movie is a classic example of an East meets West type of romance, which has a visual treat of some best designer clothing. In fact, the sarees that Ratna Pathak wears gives a glimpse of the royal wardrobe that is rarely seen these days.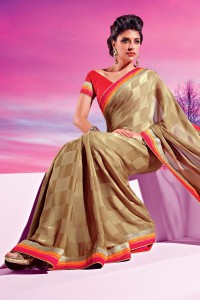 The Sonam Kapoor Khoobsurat collection comprises beautiful textures in vibrant colours crafted in the georgette saree. Red, yellow, blue and green hues which are as bright and lively as the morning mist bring a graceful charm to the entire collection. Braso styles sarees are back in fashion and there would have been no better way to make them stylish than launching it with Sonam starring Khoobsurat.
Designer and celebrity sarees are generally very expensive, but you will find some very good online stores that are offering these sarees in the range of Rs. 2500 – Rs. 4000. When you are selecting a celebrity or designer saree from an online saree store, you should look at various factors such as quality, designer name, delivery and payment options, etc. Celebrity sarees are also referred to Bollywood Sarees, and they are generally designed keeping the character in mind.
If you are attending a party that has a bollywood theme, then wearing a saree from the Sonam Kapoor inspired Khoobsurat collection will surely set some eyeballs rolling. The Indian saree is a perfect example of the quintessential Indian traditional wear that adds great panache for every occasion. All women can look fantastic in the traditional saree, but it is important to select the right one. Women have different body types and all sarees may not look good for all body types. Therefore, it is imperative that women identify the best saree type for themselves before making any ad-hoc selections.
Wearing the right accessories along with your saree will not only accentuate your style, but it will also help you be the centre of attraction for parties and other celebrations. Statement necklaces, shoes, clutches, danglers etc. are some of the accessories that can spice up your saree. If you intend to wear a very heavy saree, then you will have to choose some of the light weight danglers. Wearing a saree is may be important for you, but wearing the right combination and make-up is also very essential. You can opt for a good online saree store that provides you with the best combinations.